Frequently Asked Questions
Get answers to the questions most frequently asked about running the Taiping Lake 100 race.
WHEN IS THE RACE?
The 2020 Taiping Lake 100 will be on October 17-18, 2020.
WHEN IS THE DEADLINE?
Registration closes on September 17, 1-month before the race to allow time for event planning and logistics. Register now to guarantee your spot.
ELEGIBILITY
100K PARTICIPANTS
Are required to submit a certificate of achievement for any of the following:
Completion of a 50K distance or more in an official competition within the last 2-years.
Completion of two full marathons (42K) within the last 2-years.
50K PARTICIPANTS
Are required to submit a certificate of achievement for a half marathon (21K) or longer distance within the last 2-years.
RACE DAYS & SCHEDULE
OCTOBER 16 (FRIDAY)
10:00 - 22:00 • Shuttle bus every 2-hours from Huangshan Tunxi International Airport (TXN) and Huangshan North Station to Crowne Plaza Hotel
OCTOBER 17 (SATURDAY)
05:30 - 06:15 • Check-In for 100K & 50K
06:30 • 100K & 50K Start
07:30 - 8:15 • Check-In for 21K
08:30 • 21K Start
16:30 • 21K Finish
19:30 • 50K Finish
OCTOBER 18 (SUNDAY)
12:30 • 100K Finish
15:00 • Shuttle bus departs from Crowne Plaza Hotel to Huangshan Tunxi International Airport (TXN) and Huangshan North Station
*Final start times subject to change on race day.
WHAT'S INCLUDED?
Run 21K, 50K, or 100K course
2-nights hotel lodging
Finisher medal
Official race shirt
Bib number
Timing chip
Runners handbook
Volunteer support
Checkpoint Stations
Medical first-aid
Finish line food & water
Event Insurance
Round trip bus transportation
A dream race experience!
FINISHER AWARDS & PRIZES
All finishers will receive an official finisher medal.
Finisher Certificates will be available for download and print via email a few days after the race.
Top 5 male and female finishers of the 100K and 50K race will be presented on-site and receive the following cash awards (RMB/pre-tax):
| CATEGORY | 1ST | 2ND | 3RD | 4TH | 5TH |
| --- | --- | --- | --- | --- | --- |
| 100K | ¥5000 | ¥3000 | ¥2000 | ¥1000 | ¥800 |
| 50K | ¥2000 | ¥1000 | ¥800 | ¥600 | ¥300 |
Note: In compliance with the "Personal Income Tax Law of the People's Republic of China", the organizing committee will withhold 20% of the personal income tax. The bonus will be paid after the public notice. The organizing committee has all the right to interpret the bonus matters.
GEAR CHECK
The race will provide the option for gear check storage services for all participants. Those who need this will be required to place a number sticker on the bag for identification and hand over the bag at the starting point before the race begins.
Due to the extremely limited space in the storage area, only small bags will be accepted, no large items such as suitcases. It is recommended to leave large suitcases at the hotel.
For security purposes, bags will be placed in locker bags. The organizing committee is not responsible or liable for any missing items or damages. It is not recommended to store valuables such as mobile phones, cameras, important documents, or cash in the locker bags.
100K GEAR CHECK
Participants in the 100K race will have their bags brought to CP5 where they can access the bag during the race to change any clothes or items. Items must be placed in the locker bag and be re-registered. Otherwise, items will be discarded and the organizing committee will not be responsible for any lost items.
All participants can retrieve their own bag after the race. Service for collecting 100K bags from CP5 will end on 13:30 on October 27.
Any unclaimed bags can be retrieved within 1-week after the race. Contact the race organizer to mail bags, participants will be responsible for postage.  After the 1-week deadline, all bag will be unclaimed and discarded.
It is important that all Taiping Lake 100 participants follow the race rules and regulations, please review for details.
HOW TO GET THERE?
Participants will need to arrive at the town of Taipinghuzhen. However, there is no major airport or train station in town, all participants will need to arrive in Tunxi via airplane or high-speed train travel. Once in Tunxi you can take the shuttle bus to Taipinghuzhen, which is approximately 100km away.
BY PLANE
Participants flying in will need to arrive at Huangshan Tunxi International Airport (TXN). It takes approximatly 1-hour flying from Shanghai to Tunxi.
BY TRAIN
Participants traveling by high-speed train will need to arrive at Huangshan North Station. It takes approximately four and a half hours from Shanghai. Note there are 2 stations in Huangshan, you want to arrive a the North station.
BY BUS
Once at the Tunxi International Airport or Huangshan North Station you can catch the shuttle bus to Tapinghuzen. Buses will go every 2-hours from 10:00-22:00 on October 25 to Crowne Plaza Huangshan Taiping Lake Greenland. Or you can arrange local transportation on your own. Use G3 Jingtai Expressway from Tunxi to Taipinghuzhen.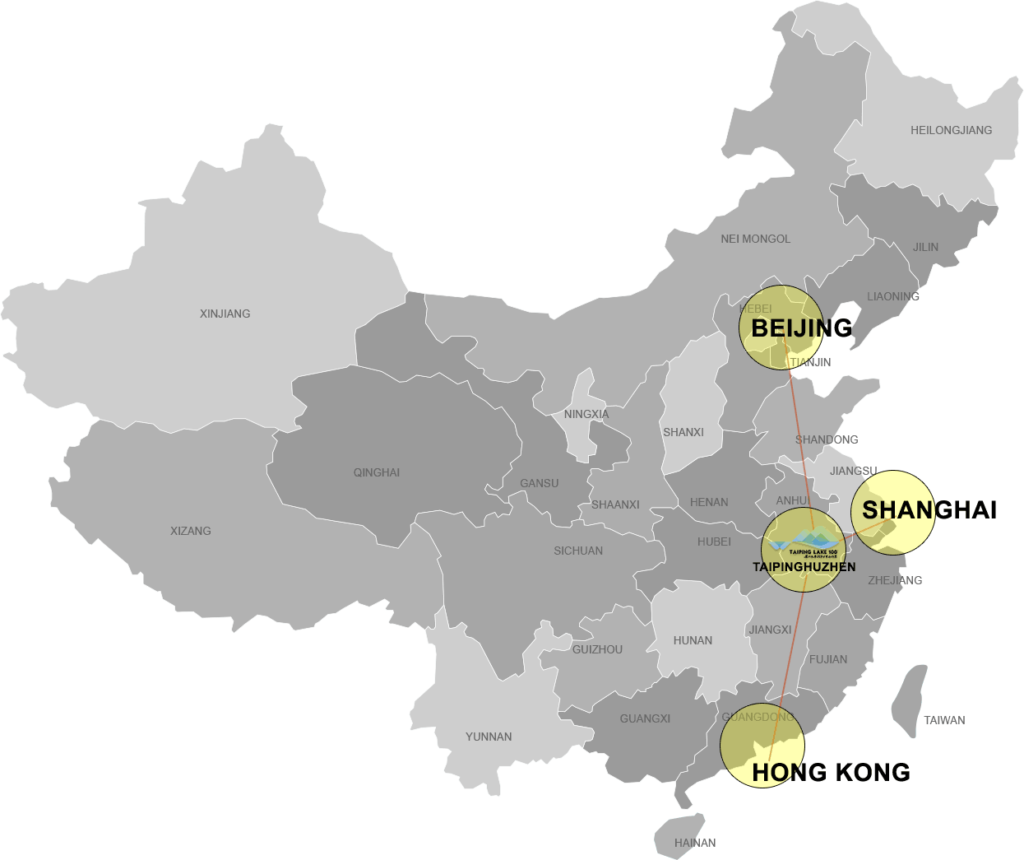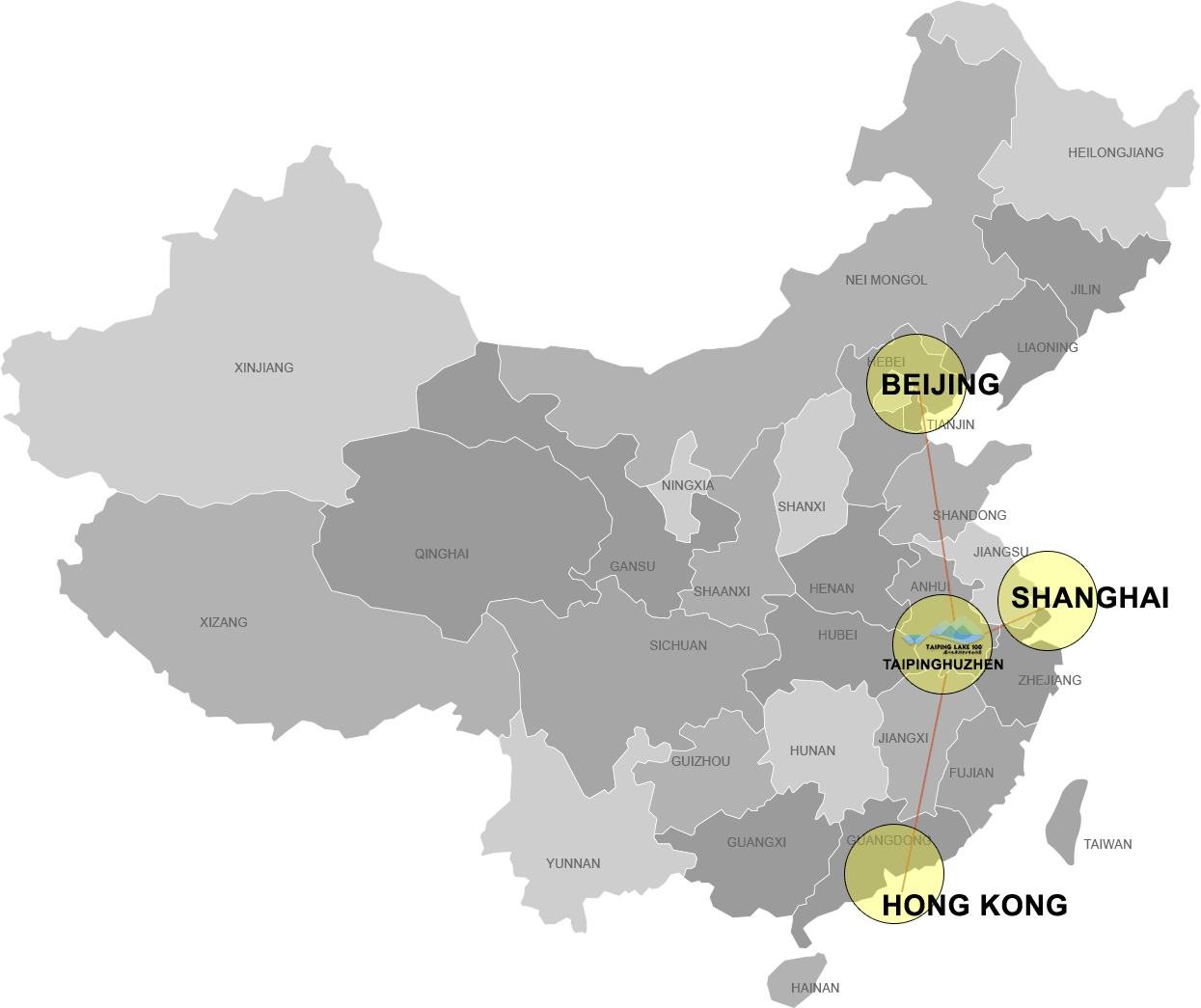 Race entry includes 2-nights hotel package at a 5-star hotel on Taiping Lake, plus round trip shuttle transportation from the airport or train station to your hotel.
HOWS THE WEATHER?
Average weather in Huangshan in mid to late October is 22°/12° C or 71°/53° F, with about 18% chance of precipitation. Temperatures will drop as elevation increases into the Yellow Mountain, prepare for a 5-15° variance. We recommend checking local weather forecasts as race day approaches and planning accordingly.
TRAVEL REQUIREMENTS
Due to the recent coronavirus pandemic, all foreigners traveling to China must have a valid China travel visa and doctors notice showing proof of COVID-19 testing with negative results to enter the country. Check the China embassy and travel requirements in advance.
CHINA VISA
A China travel visa is required for foreigners to enter the country. We recommend you apply for a visa as soon as you have your flight itinerary. It is best to apply early rather than risk missing out. When applying to be sure to provide in advance your flight itinerary.
Almost all non-Chinese nationals will need a visa to enter China. There are different visa categories and you will most likely need a tourist visa (L). Please contact your local Chinese embassy or consulate for more information. The procedure normally requires submitting a visa application form, paying a fee and providing the Chinese authorities with an authorized flight itinerary from your travel agent. This process takes about one to two weeks. Note that your passport must be valid for at least six months after entry. For more information please visit the Chinese Embassy website.
ENTRY TRANSFERS
Entries are NON-TRANSFERABLE. Sorry, no exceptions. Due to the insurance requirements for each individual, no transfers are allowed for this event.  If it is discovered that your entry has been transferred, the qualification of both the transferor and transferee will be canceled.
CANCELLATIONS
The deadline to cancel an entry is August 31, 2020, 50% of fees will be refunded to anyone that submits a cancellation request before this deadline. After September 1, 2020, no refunds are available. Sorry, no exceptions. Due to race logistics and planning, you will not receive a refund if you cannot participate. Please submit a cancellation request from the contact page.
Can't find the answer to your question? Please contact us with your questions and we will get back to you as soon as we can.
DISCLIAMER
Please note that event information here represents what is planned for the event. Locations, routes, hotels, schedule, adjustments, and changes may apply depending on conditions, availability, late participation entries, and improvements. The event strives to improve for the best experience.